The Wittwer House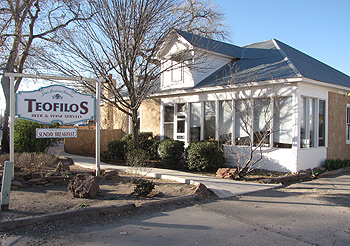 The house's appeal lies not only in it's historical significance, but also in the special nature of its builder, Dr. W.F. Wittwer. Destiny brought Dr. Wittwer to the simple little adobe village of Los Lunas at the age of 28 when his train stopped en route to El Paso. The year was 1899, and the young doctor was on his way to pursue a promising career as a railroad physician. Comin from the more civilized east, he was graphically introduced to the "Wild West" with the silent greeting of some poor soul suspended from the "Cottonwood Hanging Tree" in front of the courthouse.
Dr. Wittwer's talents were recognized during his stop-over by the Huning family. They offered the doctor a handsome sum of fifty dollars a month to practice in Los Lunas. Probably for reasons other than money, he agreed to remain as the village's first physician. This decision led to a span of sixty-five years of service to a loving an appreciative community.
This house was built for Dr. Wittwer in 1913 on land purchased from the Solomon Luna estate. The specification were provided by the docotr and his wife, Anna Nowlin. The architectural design was in keeping with the period and features terron-wall construction and high pitched, corrugated tin roof. Spanish structural and ornamental design prevalent in the area abounds in the house, fiving it its unique charm. To maintain and preserve our distinctive old New Mexico architecture, this house is registered as a State Landmark. It has been restored to recapture the atmosphere of historical Los Lunas. In the same tradition, the Torres family features authentic New Mexican cuisine, prepared much the same as it was in Dr. Wittwer's day.
Thank you for your patronage.
¡Buen Provecho!
Pedro Teofilo,  Hortencia Torres y Familia